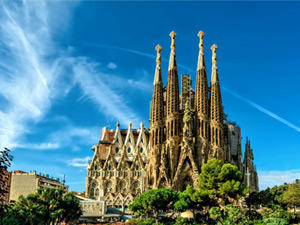 Spain is officially called the Kingdom of Spain – a sovereign state in southwestern Europe and partly in Africa, a member of the European Union and NATO.
Spain occupies the majority (80%) of the Iberian Peninsula, as well as the Canary and Balearic Islands, has a total area of ​​504,782 sq. Km. (along with small sovereign territories on the African coast, cities of Ceuta and Melilla), being the fourth largest country in Europe (after Russia, Ukraine and France).
The capital of Spain is Madrid.
Thanks to a wise and far-sighted government, tourism is very developed in Spain.
Spain has land borders with five countries:
Portugal in the west of the Iberian Peninsula;
British ownership of Gibraltar in the south of the Iberian Peninsula;
Morocco in North Africa (Seuta's half-anclave, Melilla and Peñon-de-Velez de la Gomera);
France to the north;
Andorra to the north.
Washed by the Atlantic Ocean in the north and west, the Mediterranean Sea in the south and east.
The average height of the surface of Spain is 650 meters above sea level; it is one of the most mountainous countries in Europe.
The territory of Spain is divided into 17 autonomous communities and 2 autonomous cities.