– Kirsan Nikolayevich, we would start with a question. Now all fide including build some plans – three years, five years in advance. While, on the other hand, we always reiterate that December 21, 2012, end of the world. Or the end of the world canceled ?
– Very interesting! You never know when life will come to an end. We are waiting for death, and, in principle, clearly know that we will end the physical existence on Earth. God gave us life, but it also has a beginning and an end. You can live the 80, 90, 100 years old, but still it will end.
But no one knows for sure, even Baba Vanga, however many have said that she called the exact date of the end of the world. I dealt with it dozens of times and I can say that even when she was ill, literally a month before his death she believed that will live, though, and said that we will meet again in another form.
And now we are told that the Mayan calendar ends in December, and so on. We stop to exist, probably, just as unexpectedly, like each person individually, because humanity is because once started, that is was the start, and as the end comes. And when? Maybe tomorrow, maybe in a year – but he 3012 inevitably comes, this is quite natural.
However, you cannot live and constantly thinking about what's about to die. Like, tomorrow the asteroid or planet Nibiru will fly. BTW, see this picture Alexei Parfyonov wrote? Here the 12 signs of the Zodiac, here's Adam and Eve, here's Creator kept Earth, the creator, this is planet Nibiru will fly!
Is Nibiru ?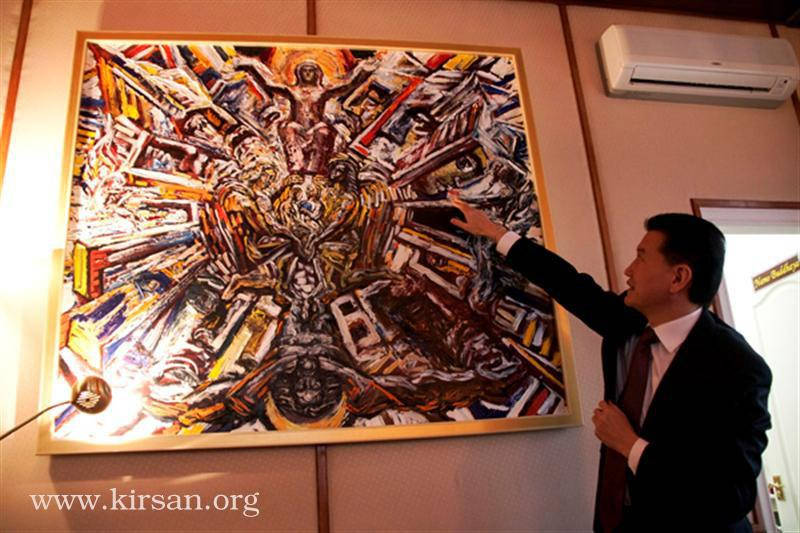 – Yes, here it is. They say that in 2012, she would approach the Earth. It is, it has been proved and are about to appear. And, naturally, everything on Earth is somehow would move from their seats.
Alexei Parfyonov, a famous painter, he painted many churches. Now the exhibition is held in the House of artists. So everything has a beginning and an end. But always it is necessary to make plans and try to implement them. So no matter whether will come in December 2012, the end of the world or not, we are going to work. FIDE has built its plans now until 2017.