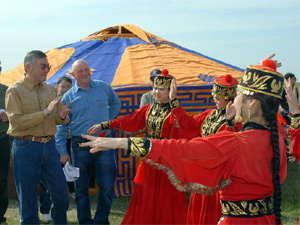 On Saturday, April 19, the Head of Kalmykia Alexey Orlov took part in the Tulip Festival, reported KalmykiaNews agency.
II Tulip Festival was held in conjunction with the Government of the Republic of Kalmykia, Fund of Wildlife Conservation of Kalmykia and Kalmyk branch of the Russian Geographical Society.
The main task of the Tulip Festival – attracting the attention of photographers and tourists during the mass flowering.
In the tulip festival was attended by members ethnographic expedition "Great Silk Road: Dialogue of East and West".