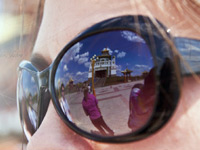 Macroeconomic environment in 2012 deteriorated again – to slow down the dynamics of investment and economic growth in general, increased interest rates on loans to business, not increased certainty in the international markets. Against this background, found in the south of Russia figure memorable bright business initiatives, it was not easy.
However, in our opinion, such a figure appeared, Kirsan Ilyumzhinov, who reasserted itself as over-ambitious entrepreneur, able to solve problems, is still unaffordable for the South.
In June, the business community discussed the purchase of 52% of Kirsan Ilyumzhinov's second largest network of petrol stations in Bulgaria Petrol Holding.
Then the ex-head of Kalmykia, became a shareholder of the French group Sucden, one of the leading players on the world sugar market, which has a number of assets in Russia (including the factory in the village of Tbilisskaya Krasnodar Territory), reported expert.ru
Next Kirsan Ilyumzhinov announced that creates a joint fund with the British Ashmore Group 1 billion dollars, and then a meeting with the President of Pakistan expressed its intention to invest $ 5.5 billion in coal production in the country.
Also, there is not yet widely advertised initiatives in other countries – Vietnam, Laos, Myanmar, United Arab Emirates, all the same, in the words of Ilyumzhinov, the horizon of his interests more than two dozen projects.
Today, of all Russian businessmen southern origin Ilyumzhinov perhaps furthest advanced on the path to becoming a real transnational capitalist. And along the way south of Russia will get a lot.