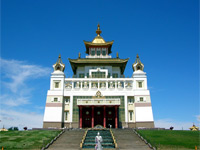 April 12 in Elista, at the invitation shadzhin Lama of Kalmykia Telo Tulku Rinpoche arrives Alexander Berzin – known in the world Buddhologist, Tibet, the historian, Ph.D., Harvard University.
Alexander Berzin was born in Paterson, New Jersey, received in 1965 a bachelor's degree at the Department of Oriental Studies at Rutgers University in cooperation with Princeton University in 1967 – a master's degree, and in 1972 – a doctorate at the Department of Far Eastern Languages (Chinese) and Sanskrit and Indian Studies at Harvard University.
Alexander Berzin, began studying Buddhism in 1962 and from 1969 to 1998 he lived in India, in Dharamsala, initially as a Fulbright Scholar, studying and practicing with masters from all four Tibetan Buddhist traditions. His main teacher was Tsenshab Serkong Rinpoche, the late Master Debate Partner and Assistant Tutor of His Holiness the Dalai Lama.
For nine years he worked with Alexander Berzin Tsenzhab Serkong Rinpoche's translator and secretary. He is one of the founders of the Translation of Tibetan Works and Archives Library in Dharamsala, the author of a number of books and articles on Buddhism.
For nearly 30 years, Alexander Berzin, on the advice of their teachers traveled around the world, teaching various aspects of Buddhist practice and philosophy, as well as Tibetan-Mongolian history and theory of astrology and medicine at Dharma centers and universities in more than 70 countries. His routes are often passed on former and current communist world, Latin America, Africa, Central Asia and the Middle East. In addition to numerous published works and translations in the languages of these countries have been published many of his lectures. He is known practical approach to presenting the teachings of the Buddha, remarkable clarity and precision of presentation.
In Moscow, the cultural heart of the Open World "April 8, Alexander Berzin, held a seminar entitled" Introduction to Buddhist Tantra. The seminar was held in the tutorial center FPMT "Discovery of Buddhism, and is a continuation of the previous course" Practical approach to Tantra.
Alexander Berzin, a teacher of the program "The discovery of Buddhism." This training program is an international nonprofit organization Foundation for Preservation of the Mahayana Tradition (FPMT), which seeks to disseminate Buddhist teachings of the Mahayana tradition around the world through teaching, meditation and communion.
The Open Buddhism "developed within the Buddhist tradition of Lama Tsongkhapa (Gelug) transmitted by the founder of FPMT venerable Thubten Yeshe and spiritual director of the Foundation Zopa Rinpoche.
In Kalmykia, Alexander Berzin stay in Kalmykia until April 17 and within the framework of his visit is scheduled a series of lectures and meetings, the press service of the central khurul "Golden Abode of Buddha Shakyamuni.