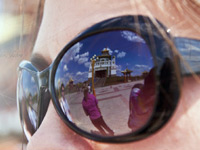 Letter from a girl who made ​​a trip to Elista. Development Fund for Tourism of the Republic of Kalmykia has received a letter from a girl who made ​​a trip to Elista. [ De | Fr | Es | Ru ]
Arriving in Elista, leaving their belongings in the hotel and went to see khurul (temple). Upon entering the courtyard my breath, the dream has come true, I'm on the verge of khurul! The building is magnificent and very beautiful.
Khurul (temple) walked around, turning the drums and looking around the yard. The soul rejoices! After visiting the monastery, there was a feeling that all the dear, kind of like back home. Sitting at prayer service, immersed in a meditative state and the feeling that you read the mantra with the monks.
Going down to the lower level walk into a museum. In the museum at this time is tour. I approached with a request to join, I'm allowed. With the tour go to the prayer hall, which details all the talk. Excursion was wonderful.
Morning rush back to the Temple. Monks came from India and conduct a prayer service White Tara. After the service I go to an astrologer. Monk – a young man with a sense of humor. I came out of the temple, trying to make sense of the conversation with the astrologer.
In the evening I go to City Chess. On the way, pass the monument to Ostap Bender, Stupa of Enlightenment and walk next to the stupa located house, look in the window Oh! And I understand that it is the home of Mahakala! I go to the City Chess, visit Chess Palace.
The next day travel to the city center. A large gazebo with impressive Buddha Sakyamuni Pagoda seven days and the Golden Gate. I stand under the golden gate, and look up, and there is music and wind chimes.
Leaving from Elista seized by a feeling here hurry back! )
Alina
Photo: Alexander Jokre