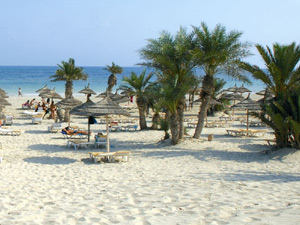 Tunisia, officially the Republic of Tunisia, is the northernmost country in Africa.
Tunisia is a part of the Maghreb region of North Africa, and is bordered by Algeria to the west and southwest, Libya to the southeast, and the Mediterranean Sea to the north and east, covering 163,610 km2 (63,170 sq mi), with a population of 11 million.
It contains the eastern end of the Atlas Mountains and the northern reaches of the Sahara desert, with much of its remaining territory being arable land. Its 1,300 km (810 mi) of coastline include the African conjunction of the western and eastern parts of the Mediterranean Basin.
Tunisia is home to Africa's northernmost point, Cape Angela; and its capital and largest city is Tunis, located on its northeastern coast, which lends the country its name.
Tunisia is well integrated into the international community. It is a member of the United Nations, La Francophonie, the Arab League, the OIC, the African Union, the COMESA, the Non-Aligned Movement, the International Criminal Court, and the Group of 77, among others. It maintains close economic and political relations with some European countries, particularly with France, and Italy, which geographically lie very close to it. Tunisia also has an association agreement with the European Union, and has attained the status of a major non-NATO ally of the United States.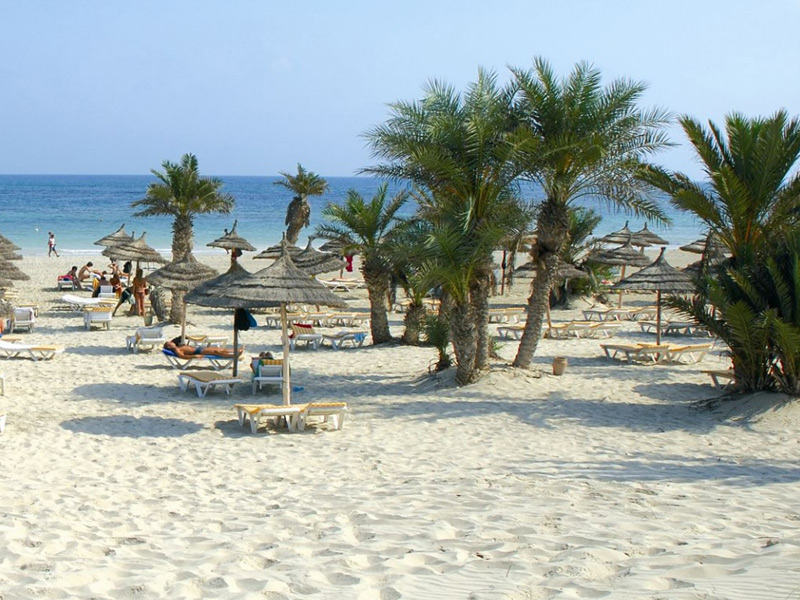 Tourism in Tunisia
Tourism in Tunisia is an industry that generates around 9.4 million arrivals per year in 2016, 2017, 2018, 2019 & 2020, which makes it one of the most visited countries in Africa.
Tunisia has been an attractive destination for tourists since the beginning of the 1960s. Among Tunisia's tourist attractions are its cosmopolitan capital city of Tunis, the ancient ruins of Carthage, the Muslim and Jewish quarters of Djerba, and coastal resorts outside Monastir.
According to The New York Times, Tunisia is "known for its golden beaches, sunny weather and affordable luxuries."
Attractions
Tunisia's attractions are of different types according to the region:
Tunis, the largest city and capital and its suburbs mainly Le Bardo, and the northern suburbs of Carthage, Sidi Bou Said, La Goulette and La Marsa
Bizerte and its surroundings
The North-West for its forests in Ain Draham and picturesque coastal mountains close to Tabarka
The Cap Bon: Hammamet, Nabeul and surroundings
The Sahel, Tunisia: the beach resorts of Sousse, Monastir, Mahdia
The religious city of Kairouan, the former capital of the country, the fourth capital of Islam and the city of the oldest mosque in Africa Great Mosque of Kairouan
The island of Djerba
The Sahara and the touristic and relaxing cities of Douz, Tozeur and the famous Tataouine, one of the locations of the Star Wars saga.