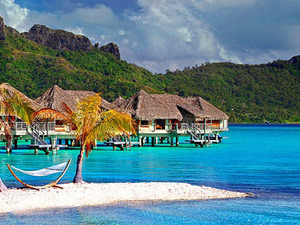 Bora Bora, French Polynesia
Bora Bora is one of the Leeward Islands of the Society Islands archipelago in French Polynesia in the Pacific Ocean, located 241 km northwest of Tahiti.
Bora Bora is an atoll that from the air shows the typical shape described by Charles Darwin: a central mountain surrounded by a coral reef with numerous motus.
The elongated central island is 9 kilometers long and 5 kilometers at its widest point.
Area – 38 sq. km.
As of 2017, the population of Bora Bora is 10,605 (2007: 8,927).
The largest settlement of Vaitape (approximately 4,000 inhabitants) is located in the western part of the island opposite the main passage to the lagoon, which is so deep that even large cruise ships can pass through. The village of Faanui, the former residence of the ruling dynasty, is located in the northwest of the island, and the settlement of Anau in the east.
The settlements are located exclusively on the coast, while the inner parts of the island, overgrown with lush vegetation, are inaccessible. A 32-kilometer paved ring road encircles the island, making it possible to move between coastal settlements and hotels, while the interior of the island is in some places only accessible by off-road vehicles.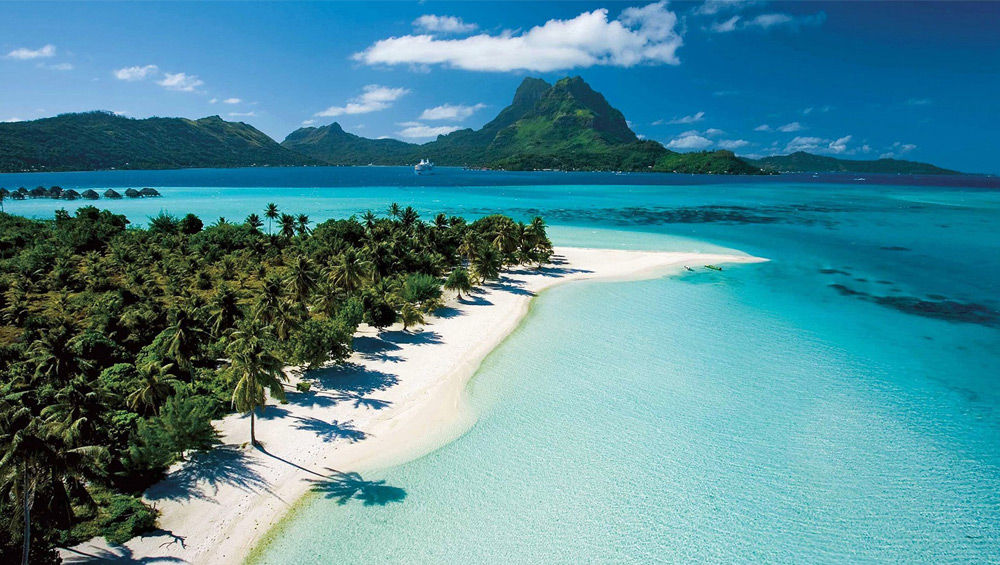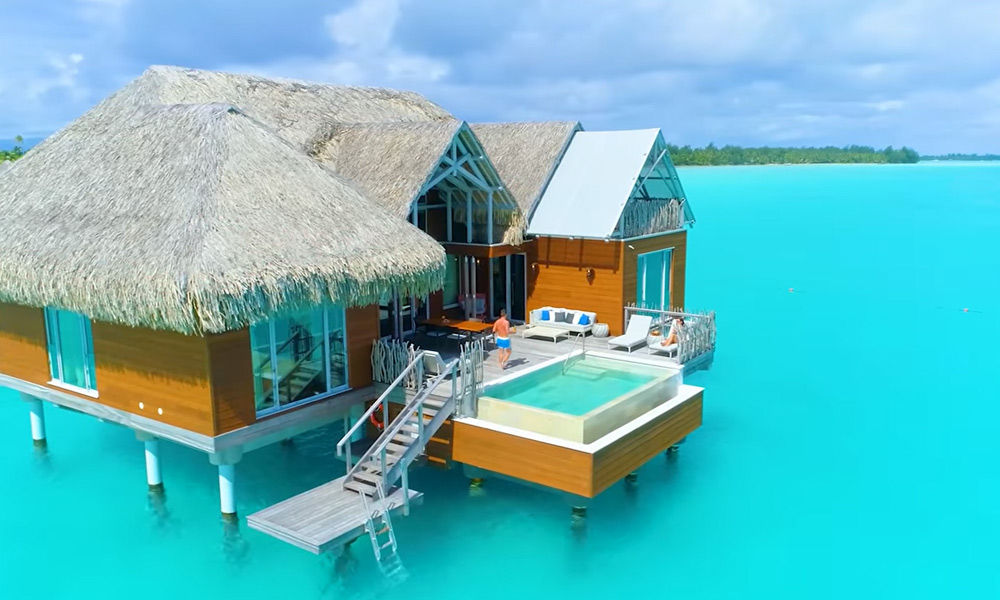 Tourism in Bora Bora
After the construction of the first hotel, life on Bora Bora changed.
The economy of Bora Bora is based almost entirely on tourism. Bora Bora, along with Tahiti, is considered one of the most open to tourists islands in the South Pacific.
Bora Bora is replete with numerous high-end hotels frequented mainly by American and Japanese tourists. Many luxury hotels are located on the motu and offer vacationers dwellings located on stilts directly in the lagoon.
Transportation for tourism: There is a regular bus (more precisely, a truck converted into a bus) on the central island, which covers the roundabout of the island in one hour. Specialized stopping areas are not provided, as the bus stops anywhere at the request of passengers. However, the most preferred means of transportation among tourists are bicycles, mopeds or free shuttle buses provided by some hotels. In Vaitape you can rent a small electric car. A private helicopter is deployed on the island, with the help of which tourists fly around the islands.
A small airfield located on Motu Mute (located in the north of the atoll), based on the site of a former US Air Force runway, is currently operated by Polynesian Airlines. Air passengers are transported to their hotels using a small boat, the flight of which can last up to an hour. The flight from Tahiti to Bora Bora takes 40 minutes by plane.
The main town of Bora Bora is Vaitape.